Garage door opener buying guide.
with built-in WiFi; that's cool!
We carry all major garage door manufacturers, including Martin Garage Door and Genie products, specially designed to give you safe and secure access to your garage and home. We also carry residential garage door openers that are designed to give you access to your garage even when you are miles away. We provide our clients with a super-quiet DC motor with belt drive, which comes with a lifetime warranty, as well as entry-level chain drive openers with a six-year warranty. Check out the openers and their features below to determine which one is right for you.
---
Belt and Chain Drive Openers
Heights: 7,8,10
Series: Premium
Drive: Belt
Force: 1/2 HP
Motor Warranty: Lifetime
Parts Warranty: 1 year
Heights: 7,8,10
Series: Elite WiFi
Drive: Belt
Force: 900 Newtons
Motor Warranty: Lifetime
Parts Warranty: 5 years
Heights: 7,8,10
Series: Contractor
Drive: Chain
Force: 1/2 HP
Motor Warranty: 4 Years
Parts Warranty: 1 year
Wall Mount Openers




8500W


DC Battery Backup Wall Mount Wi-Fi Garage Door Opener
Series: Elite
Drive: Walmount
Force: 24v
Motor Warranty: Lifetime
Parts Warranty: 5 years
5 Reasons to Buy a Martin Garage Opener
Value - The feature-rich, reliable, lighted door openers are designed to perform, built to last, and guaranteed to provide years of smooth, trouble-free operation.
Reliability - The DC power technology not only enhances garage door opener safety but also the performance and longevity of your garage door opener, your garage door, your springs, track, and rollers.
Security - Remote controls and wireless keyless entry systems operate on a security code technology that allows for billions of different code combinations.
Quietness - Smooth quiet operation void of transmitted vibration making it a peaceful living condition for your family.
Safety - The Garage Opener Digital Intelligence system constantly monitors the force level necessary to safely open and close your garage door.
---
---
Liftmaster Commercial models:
J-50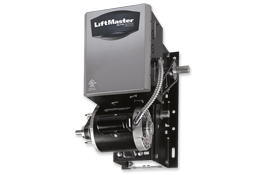 Model J is an industrial-duty jackshaft operator. It features a removable hinged electrical box cover, a continuous-duty high-starting torque motor, industrial ball bearings on the output shaft, and a universal mount frame design.
---
MJ-50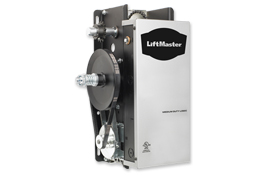 Model MJ is a Medium-Duty Logic jackshaft operator. It features a compact design, an adjustable friction clutch, a standard solenoid brake, and a high-starting torque motor.
---
MT-50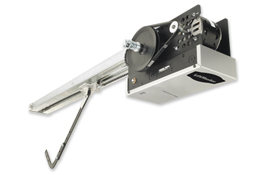 Model MT is a Medium-Duty Logic trolley operator for standard lift sectional doors. It features a high-starting torque motor, a compact design, quickest-gliding rail spacers and a quick-mount swivel header bracket.
---
T-50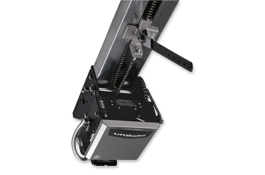 Model T is an industrial-duty trolley operator for standard lift section doors. It features a low profile and industrial ball bearings on the output shaft.
Garage Door Openers
Knowing what features you want or power requirements to operate your garage door can be somewhat overwhelming. So whether you are looking at Genie or LiftMaster let's break it down.
Belt Drive Openers
The belt-drive system is the quietest drive type because its operation is the smoothest. The steel-belt is made to last and is strong enough to lift the heaviest garage doors. It's the perfect choice for replacing a noisy opener or the satisfaction of buying quality with a new garage door.
Chain Drive Openers
The chain-drive system uses a metal chain to lift the door. Chain drive systems are cheaper and most common, but they are inherently noisier, however, they continue to be very popular. Just like their close cousin the belt-drive they are designed to lift even the heaviest carriage house garage doors. They are rugged, reliable, and deliver when called upon.
Screw Drive Opener
The screw-drive system uses a threaded steel rod to lift the door. The lifting force of these openers is superior and reliable, giving you years of operation. They requiring very little maintenance which is a definite plus.
Wall Mount Opener
The direct-drive mounts to the garage door shaft off to the side and operates much quieter than other openers; it is simply beautiful. Usually, direct-drive units are used for low ceilings or obstructions but I see this technology being used in any situation.
Shop now for your garage door opener remotes for all brands at low prices. If you can't find what you are looking for please come by we have a huge inventory of garage door remotes. Buy your next transmitter, clicker, remote, keypad, battery, or parts from us; we will have it in stock for you. Having problems finding a replacement remote, we carry universal remotes that will work. Genie, Chamberlain, LiftMaster, or Linear is just a few brands we carry give us a call to get started.
How do I reprogram a hand-held garage door remote?
You may need to change or reprogram your remote at some point. Some remotes have code switches and others use a programming connector. Every model will be slightly different but here are a few videos showing you how to change out a battery or change the code on a Martin opener.

Here are a few helpful links to other reprogramming guides.