M26 Commerical Garage Door
---
Now available with Martin exclusive patented window section. Steel framed window section up to 30" high.
PANEL STYLES
26 gauge steel. 4-section 7' (2134) high. Optional wide center style available. -


Flush (With Rib)

Flush (No Rib)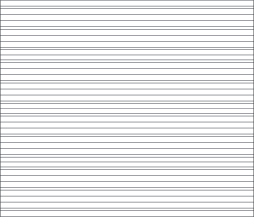 Ribbed
PAINT FINISHES
POWDER COAT COLORS
Help Me Decide
Flush Insulation
Flush doors are insulated for thermal efficiency, noise reduction, durability, and minimal upkeep.

Steel + Insulation + Vinyl

Steel + 2 Insulation Layers + Steel

Steel + Insulation + Steel
Section Joint
STACKING GUIDE - TG
Toung and Groove joint PANEL STACKING GUIDE
For heights above 8' 9"(2667) refer to safety joint height examples on next tab.

Maximum width: 24'2" (7366)
STACKING GUIDE - Safety
Safety Joint PANEL STACKING GUIDE
For doors up to 20' (6096). (See other tab for Tongue and Groove Joint)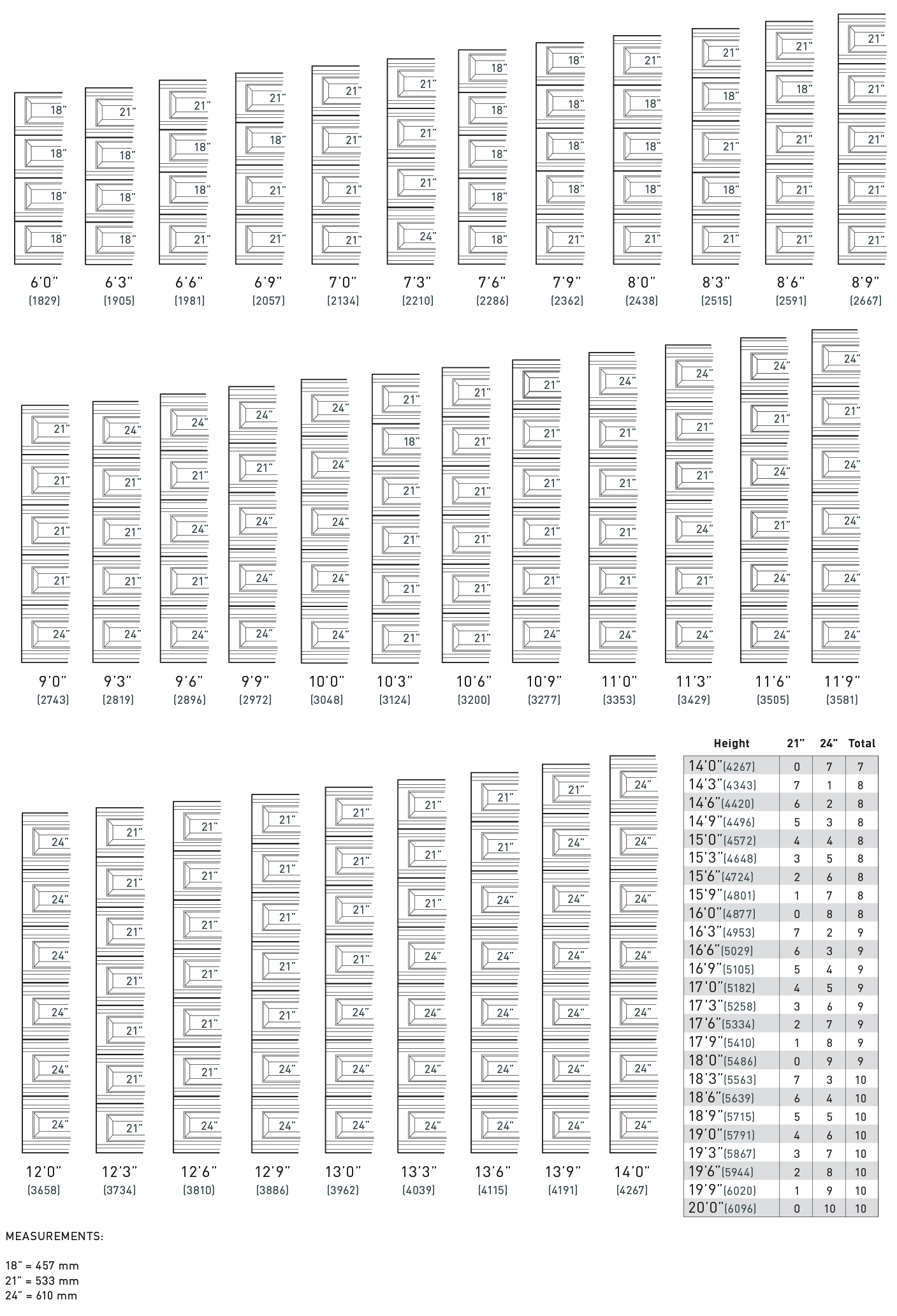 Maximum width: 24'2" (7366)
Help Me Decide
Steel-Framed Windows
Classic Windows
Help Me Decide
ADDITIONAL OPTIONS
ANTIQUE HARDWARE
HI-LIFT
LIFT OPTION: Hi-Lift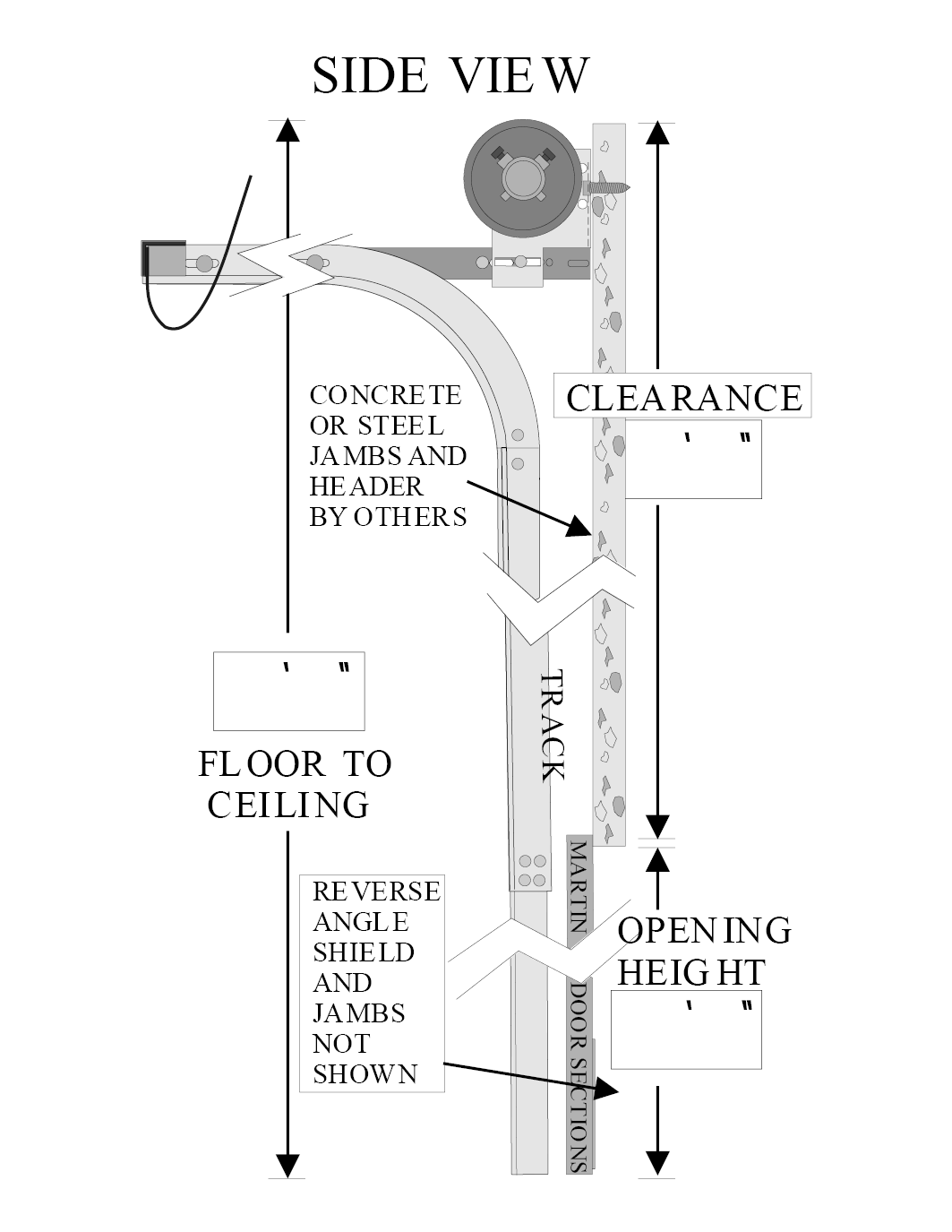 VERTICAL-LIFT
LIFT OPTION: Vertical-Lift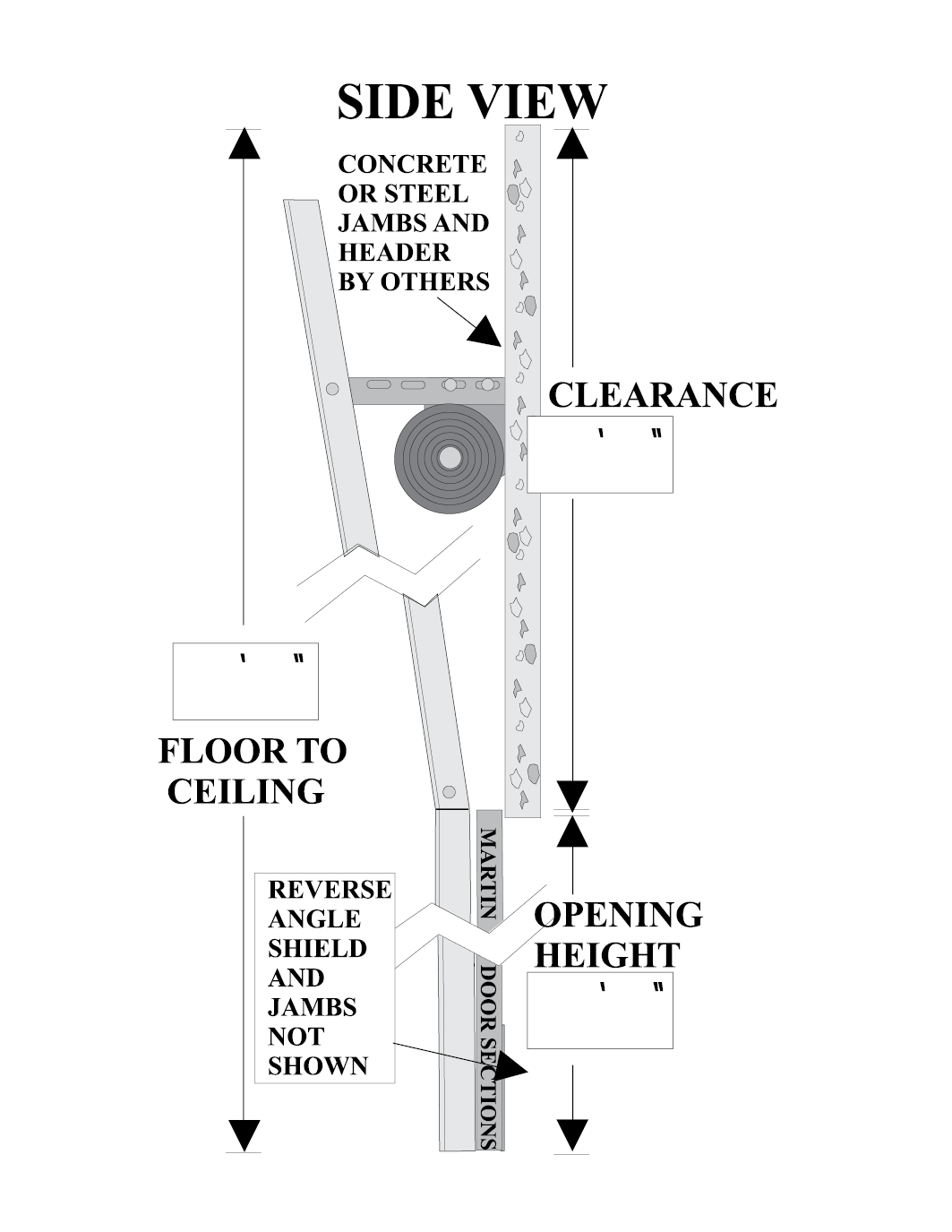 ROOFLINE and Hi-Lift
LIFT OPTION: Roofline and Hi-Lift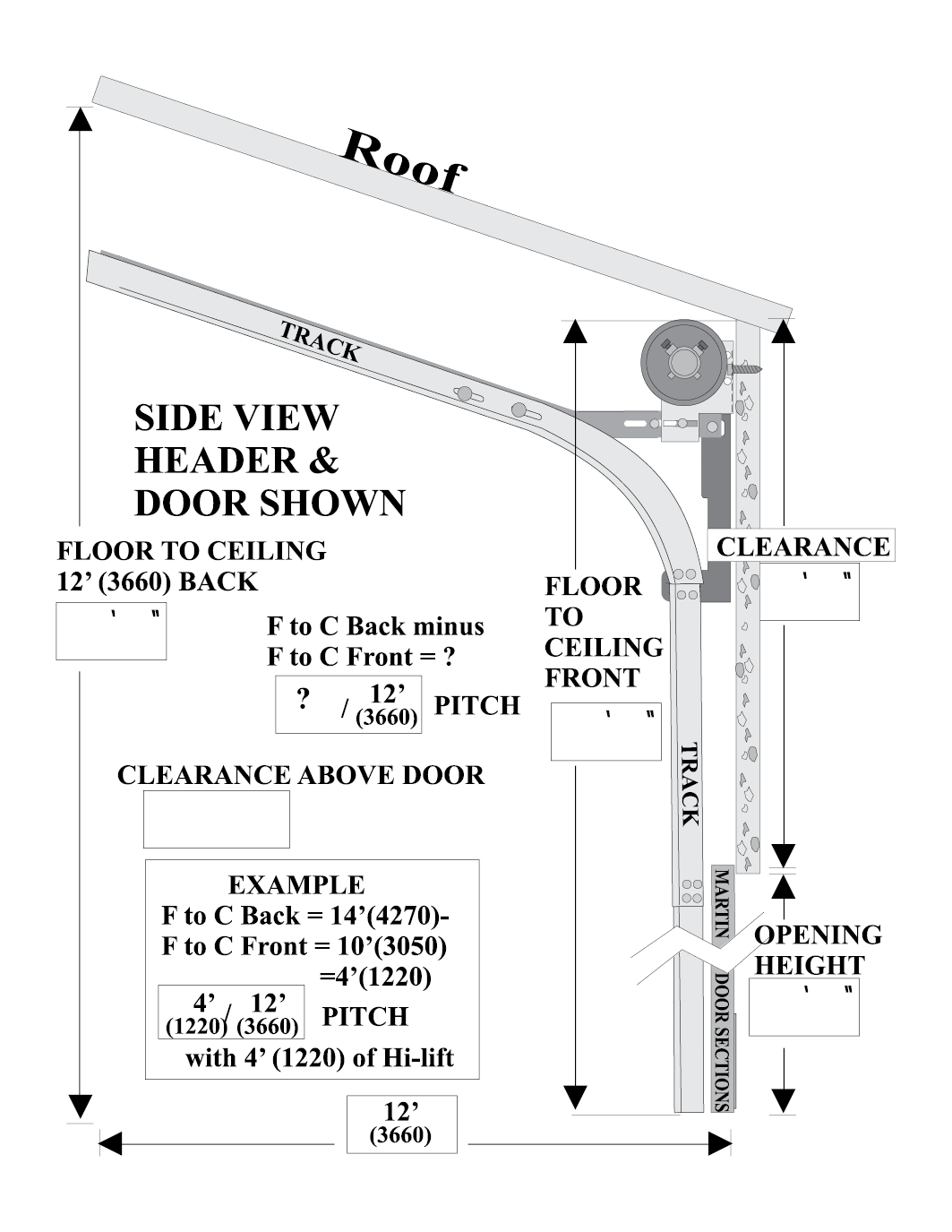 ROOFLINE
LIFT OPTION: Roofline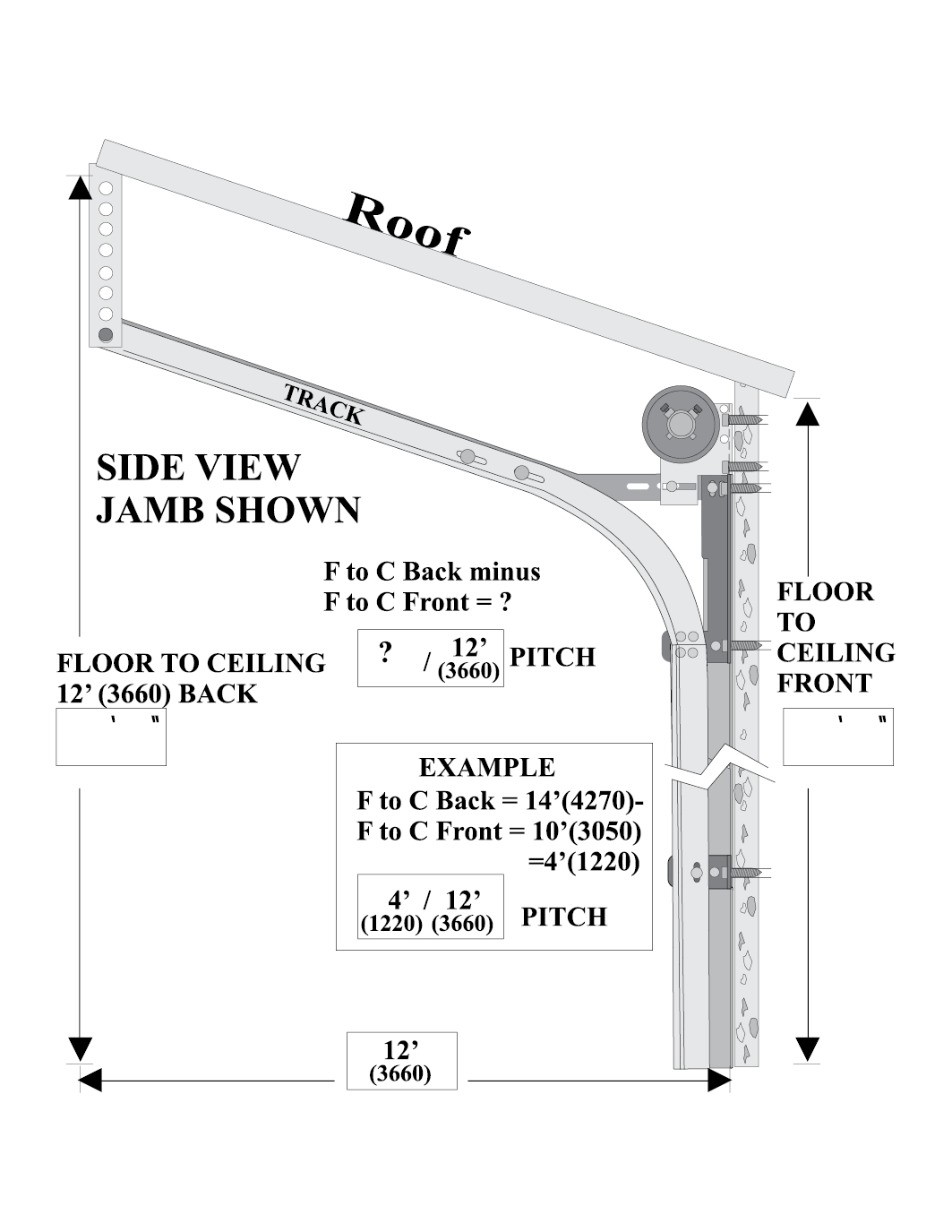 SPEC GUIDE
MARTIN DOOR'S THREE-PART SPECIFICATION
PART 1 GENERAL
1.01 Work Includes: Upward-acting steel sectional garage doors. Tracks configured for standard clearance [low clearance] [high clearance(Hi-Lift)] [roofline] [vertical-lift] lift type, and [Electric Motor Operators].
1.02 Warranty: Martin Steel Sectional Doors: Commercial and Rental Properties: 5 year section rust through. 5 year Hardware. See written warranty for requirements and limits.
PART 2 PRODUCTS
2.01 Door Section General: Door Sections shall be 2" (51) thick and 2" (51) wider than finished door opening. Steel shall be High Tensile 0.016/0.021-inch (0.406/0.533) thick (26/24 ga.) steel equivalent to 25% thicker mild steel for dent resistance. Wind load design: 0.021-inch thick doors shall meet or exceed static pressure and design loads of ANSI/DASMA - 1021996. [Hurricane wind load design.] Wind Speed: 80-135 MPH(130-217KMH) 26 gauge, 90-169 MPH (145-272 KMH) 24 gauge. All Heights in 3" (76) increments from 6'(1830) to 20'(6096), except Athena and Pinnacle which are 1" increments.
2.02 Tracks: Standard G-40 hot-dipped galvanized steel [reverse angle shield] and 2" (51) [3" (76)] vertical track assembly. Normal clearance shall be 14" (356) above the door for commercial sizes.
2.03 Door Opening Preparation: [Martin Reverse Angle Shields] can be directly mounted to most flush surfaces. The track assembly requires a minimum of 3 1/2" (98) side clearance beyond the width of the door on each side. Jambs and header should be flush and jambs should be flush all the way to the floor including concrete footings.
2.04 Safety Features: All interior hinges are "Low Profile" which also reduce the risk of finger entrapment in the door section joint [Finger Shields™]. [Reverse Angle Shields] with rolled edge shall reduce the risk of arm, hand, and finger injury or entrapment. [Roller Shields™] hide rollers and help to push away fingers. All vertical tracks shall have rolled edges with no holes larger than 0.30" (8) diameter. All lift cables shall be inside design, even on Low Clearance. Torsion spring shall be side-mounted above the door with lock-on side mounted torsion spring assemblies which lower the risk of serious injury to the unprofessional. Extra heavy doors may have a four spring assembly - center mounted. Bottom roller brackets shall lock-on while under spring tension.
2.05 Weatherseal: A 1" (25) [3" (76)] weather seal shall be factory installed to the bottom door section, held in place by a full door width reinforcing steel galvanized angle.
2.06 Steel Door Section Assembly: Exterior surface; [ribbed][short, raised panel(s)][long, raised panel(s)] [flush] [grooved short, raised panel(s)]. End and center stiles shall have rolled edges for reinforcement and safety. Stiles shall be made from 0.051-inch (1.30) hot dipped G-40 galvanized steel. Door sections shall be [G-30/G-40 0.016/0.021-inch (0.406/0.533) thick (26/24 ga.)] hot-dipped galvanized, structural-quality carbon-steel sheets complying with ASTM A 653 (ASTM A 653M), commercial quality, with a minimum yield strength of 33,000 psi (225 MPa). Door sections shall be dent repairable, replaceable and recyclable.
2.07 Finish and Color: Hot-dipped galvanized plus two coats baked-on enamel, inside and outside(except woodgrain), one to serve as primer and the other to serve as finish, factory-applied baked-on high flexible poly-ester paint. [Powder Coating] on door face or selected hardware: 3-4 mil thick, passes 1500 hour salt spray rust test, 164 hour UV exposure test and 2-h min. hardness test (ASTM B 117, ASTM G-53, ASTM D-3363)]. [26 Gauge: White Mist, Light Almond, Desert Taupe and Dark Brown][24 Gauge: White Mist, Light Almond, Dark Brown, Adobe Stone, Desert Taupe, Ash, Walnut, Natural, Bronze or Silver][26 Gauge/24 Gauge: Over 70 Optional Powder Coat Finishes]
2.08 Hardware: All hardware shall be heavy duty, corrosion-resistant hardware, with hot-dipped galvanized steel or zinc-plated. #2 Hardened fasteners shall be zinc-plated. Low profile, spring steel pin hinges shall be heavy duty galvanized steel, of not less than .07-inch (2) thick steel and roller brackets to be 0.1/0.13-inch thick. Rollers shall be delron with galvanized zinc shaft, [11 steel ball bearings sealed in case-hardened steel races packed in hi/low temperature grease], with delron tires for quietness. [Roller Shields™] shall be fastened to the first five rollers. Lift cables shall be a minimum 1/8" (3) diameter aircraft quality. Torsion tube [solid shaft] shall be galvanized.
2.09 Torsion Spring: 20,000 cycles. [50-100,000 cycles] made of high quality, hot-dipped galvanized wire.
2.10 Insulation: [Polystyrene shall be covered with: R8 vinyl back / R8/R14 white steel back (30 ga.(.010)].
2.11 Options: Acrylic Designer, double pane, insulated, extruded aluminum or steel full-view windows, security windows for ribbed or flush doors, higher cycle springs, electric operators, hoists, etc.
PART 3 – EXECUTION
3.01 Installation: Install door according to Martin Door's written instructions and standards. Installation shall be performed by an authorized Martin Door distributor.