Rollers Illustrate High Quality, Ingenuity of Our Doors
Martin garage doors dispel the notion that "parts is parts."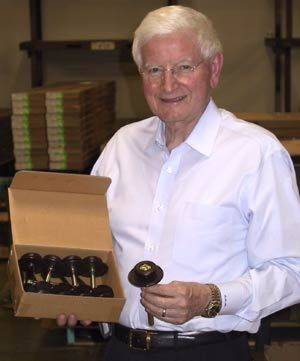 Martin Door takes anything but a casual approach to the parts that make up its garage door. That's one of the reasons Martin Door can claim they manufacture "the world's finest and safest garage door."
Taking a closer look at the unique roller that is part of each door, illustrates this approach.

Like many of the Martin Door inventions, coming up with the perfect roller was an extended process for David O. Martin. It was a combination of learning from the school of hard knocks, combined with innovation. That process has taken over 20 years, according to Dave Martin.
Martin wanted a roller with the quiet nature of nylon and the durability of steel. A roller made of nylon is too brittle, while a steel roller is too noisy. He had to work to find the best of both worlds.
Dave Martin, CEO of Martin Door Manufacturing, shows off a box of the unique rollers that are a key part of each Martin garage door.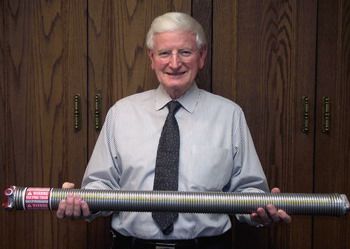 Not all torsion springs for garage doors are created equal. Not even close.
Even though most springs look similar to the untrained eye, there is only one company in the world who dares to offer a lifetime warranty on both the door and the springs----a Martin Garage Door with galvanized torsion springs.
Not so coincidentally Martin was the first company to develop the galvanized torsion spring for garage door use in 1985. This completed a 25-year research process of finding the right engineering to make a spring that will last with the clean look and corrosion resistance that galvanizing offers.
In the rush to save money by buying so-called imitation clean galvanized springs, many door dealers are actually committing themselves to an inoperable door sooner than they experienced with the old-style greasy or paint-flaking torsion springs.
A small gathering of door companies in California illustrates the point. The door executives shared their concerns about the galvanized springs they were buying and about early fatigue issues. It was no surprise to learn none of the companies were using Genuine Martin Galvanized springs.
One official said his experience with the galvanized springs he had purchased angered him to the point of wanting them outlawed and the spring manufacturers reprimanded. He admitted that he had no experience with Martin.
Martin galvanized springs are engineered to last 20,000 to 30,000 cycles. This is a great complement to the Martin garage door product offering, which includes high cycle openers and high cycle garage door components.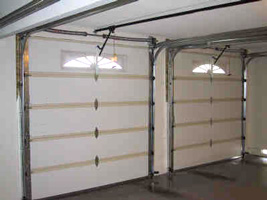 Garage Doors get a lot of use every day. A residential garage door usually has a minimum lifespan of 10,000 open-and-close cycles. The length depends on how often the garage door is used and how it is maintained over the years.
An annual tune-up to get the most out of your garage door is recommended, but there are some simple ways to care for your garage door on your own.
Lubricating your garage door rollers every year with garage door lubricant will increase the life of the rollers and cut down on the noise. If you are hearing squeaking sounds there is friction involved and this is not good for the gears in the opener.
Garage door springs are the most important and most dangerous part of your garage door. It provides a counterbalance so the door will go up and down smoothly. Making sure your springs have the right tension is important but this is one thing not recommend to do as a homeowner. Its based on the weight of the door a spring size so its best to leave that one to a professional. However, if your springs are making some noise you can spray them with lubricant.
Worn or frayed cables can easily break. "Visually inspect the cables that attach the spring system to the bottom brackets on both sides of the door. If they are damaged or frayed immediately contact a professional to replace them before they snap.
If your garage door isn't going up or down check your sensors and make sure they're clean of any dust or debris. Also, check their alignment. If they get bent you have to get them back aligned before your garage door will start working.
Washing and in some cases waxing your garage door will give your garage door new life.
Keep your opener manual. You never know when you will have to get up there and reset the open and closed position of your door. Every model of door and opener has unique instructions to your model.

The galvanized steel lift cables that are installed on your new garage door are corrosion and humidity resistant.
These lift cables come standard and is aimed at addressing concerns of extreme corrosion that may be prevalent.
All of Martin's lift cables come standard 1/8 inch thick, or 3.175 mm, compared to the industry standard of 1/16 of an inch or 1.58 mm. One safety feature of the Martin Door lift cables is that even on low clearance/low headroom applications, the cables are located inside between the track and the door section. It's safer because they are hidden and won't get in the way of your fingers.