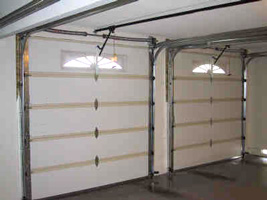 Garage Doors get a lot of use every day. A residential garage door usually has a minimum lifespan of 10,000 open-and-close cycles. The length depends on how often the garage door is used and how it is maintained over the years.
An annual tune-up to get the most out of your garage door is recommended, but there are some simple ways to care for your garage door on your own.
Lubricating your garage door rollers every year with garage door lubricant will increase the life of the rollers and cut down on the noise. If you are hearing squeaking sounds there is friction involved and this is not good for the gears in the opener.
Garage door springs are the most important and most dangerous part of your garage door. It provides a counterbalance so the door will go up and down smoothly. Making sure your springs have the right tension is important but this is one thing not recommend to do as a homeowner. Its based on the weight of the door a spring size so its best to leave that one to a professional. However, if your springs are making some noise you can spray them with lubricant.
Worn or frayed cables can easily break. "Visually inspect the cables that attach the spring system to the bottom brackets on both sides of the door. If they are damaged or frayed immediately contact a professional to replace them before they snap.
If your garage door isn't going up or down check your sensors and make sure they're clean of any dust or debris. Also, check their alignment. If they get bent you have to get them back aligned before your garage door will start working.
Washing and in some cases waxing your garage door will give your garage door new life.
Keep your opener manual. You never know when you will have to get up there and reset the open and closed position of your door. Every model of door and opener has unique instructions to your model.
Galvanized Steel Lift Cable

The galvanized steel lift cables that are installed on your new garage door are corrosion and humidity resistant.
These lift cables come standard and is aimed at addressing concerns of extreme corrosion that may be prevalent.
All of Martin's lift cables come standard 1/8 inch thick, or 3.175 mm, compared to the industry standard of 1/16 of an inch or 1.58 mm. One safety feature of the Martin Door lift cables is that even on low clearance/low headroom applications, the cables are located inside between the track and the door section. It's safer because they are hidden and won't get in the way of your fingers.
A new Utah garage door has the ability to improve the look of your home, while making it safer for you and your family. Energy efficiency is another thing to consider when thinking about a Payson garage door replacement. Selecting the best residential garage doors is very important, especially when it is an integral part of your home's facade.
A complete house makeover is now possible with garage doors from Martin Doors, available in Payson, Orem, Provo, Heber City and all over Utah County. Take a look at these beautiful pictures and decide for yourself if it's worth giving us a call at 801-224-2649 for new Payson garage doors.
Garage Door Discounts and Specials
Give Your House a Face Lift!
Replace your old worn out garage door with a new Martin door. Often your garage door represents 40% of your homes front appearance. For just a small investment your home can have that new look again. Doors Start at just $650



Broken Springs Replacement Coupon
10 Year Warranty, Highest Quality Galvanized Spring steel, rated for double life cycles. SAVE 10%



Free Transmitter with Opener Purchase
$30 Value

Save $50.00 with the Purchase of a Garage Door & Opener

Garage Door and Opener Service Special
Includes adjusting springs, tightening any loose hardware, checking for worn hinges, cables, rollers, bearings etc... lubricating opener and check opener safety settings.

Intermountain Martin Door in business since 1981. Not Valid with any other offer.